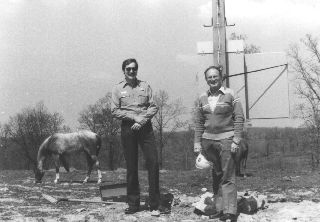 1985 National Park Installation
Left: Chris White. Right: John Shoaf.
The advent of the Travelers' Information Station (TIS) began with various experimental stations and pilot projects conducted in the 1950s-1970s in our National Parks as well as at certain airports, highways and bridges.
As a result, the Federal Communications Commission issued a notice-of-inquiry; and a rulemaking process ensued that led to
formal federal rules
in 1977 that, with certain modifications, continue to govern the service.
Today Travelers' Information Stations are tasked to inform not only travelers and commuters but also to provide emergency updates to communities. The TIS service currently is a key component in multimodal emergency management programs across the United States (see "Related Links," below); because, in crises, timely local information simply and directly disseminated by emergency officials is essential.
Below is a historical progression of articles about the evolution of Travelers' Information Stations. Some of the articles pre-date creation of the TIS service by the Federal Communications Commission. The last article describes how TIS is used today.
In the National Parks:
In Transportation:
The TIS Service Today:
Related Links: