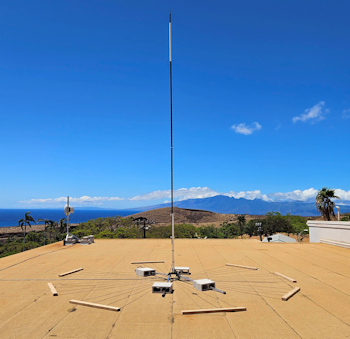 RadioSTAT Antenna in Evidence atop the Lahainaluna High School Gym
Radio Aids Maui Recovery.
FCC Approves Larger, Higher Antennas.
Why EMAs Don't Like LPFM.
Should Safety Take a Back Seat?
Detroit, MI: The National Association of Broadcasters (NAB) has launched a petition drive to ask Congress to prevent automakers from removing AM receivers from future automobiles. Why would car makers that we've supported propose to endanger the US population with such a move?
FEMA's Coverage Footprint
AM & FM Stations ascross the Country
that Comprise the USA's Emergency Alert System
FEMA Administrators Send Letter to USDOT Asking that US Automakers be Prevented from Removing AM Receivers from Vehicles
WASHINGTON DC:
Saying it is a "grave threat to future local, state and federal disaster response and relief efforts, seven former FEMA administrators Sunday penned a joint letter to the USDOT, asking that US automakers be prevented from removing AM receivers from car dashboards.

One day later, Monday, February 27, Commissioner Nathan Simington echoed his response from the FCC, saying, "…I underscore and share their concerns in the strongest possible terms. ...The issue of the continued inclusion of AM radios in electric vehicles deserves urgent attention." Simington is also on record asking the Commission to "make clear the vital importance of AM radio."

FEMA has recently "hardened" key AM broadcast stations across the nation whose signals, combined with some FM stations, cover more than 90% of the US population. Per the FEMA website, "This helps ensure that under all conditions, the President of the United States can alert and warn the public."

The American Association of Information Radio Operators (AAIRO) wrote to Congress in 2022 in support of this effort and will again do so in coming weeks.



See also a state-by-state list of FCC-licensed public-service / public-safety statons across America.
The NAB has devised a quick-and-easy way for you to voice support for the new "AM Radio in Every Vehicle Act" that would require manufacturers to keep AM radio in cars (at no additional cost to users) to ensure that Americans can hear emergency alerts -- just as carmakers are required to include safety belts. Time is of the essence, so visit 'Act Now' to add your name to list of those who support the legislation! Your voice matters. Please join the effort and share this info within your sphere of influence. See also this excellent summary published by Inside Radio.

On May 23, one major automaker reversed course and announced that AM Radio will remain in their vehicles but did not say for how long. Other carmakers have not turned this corner yet. That is why NAB president / CEO LeGeyt today reminded Congress that the legislation continues to be required, stating, "Broadcasters will continue to support this major legislation to ensure consumer access to AM Radio in all vehicles."

The NAB reports having received over 187,000 emails and more than 13,000 tweets to date from people voicing concern over carmakers' efforts to eliminate AM radio from vehicles. We were among them.

We hope vehicle manufacturers are listening; because some are proposing to eliminate AM radio receivers from future models of both electric vehicles (EVs) and gasoline-powered cars, despite our Federal Emergency Management Agency's investment of billions of our dollars to make sure that AM radio will be the backbone of our national safety network in a national emergency. It's unconscionable, but it's true.

Why? Automotive manufacturers have been saying that the task of integrating AM receivers into EVs is impossible – even though there are thousands of EVs on America's roads currently equipped with AM receivers. Moreover, these same manufacturers have been suggesting that emergency information is available from other sources (other than radio), ignoring that non-radio sources (cellular, internet) are the most vulnerable to attack and overload during emergencies and often aren't accessible to drivers due to laws enacted to discourage distracted driving. But virtually every vehicle in America today is equipped with an AM broadcast receiver, making AM radio one of the most reliable sources of emergency information.

On behalf of the American Association of Information Radio Operators (AAIRO), we join the Federal Communications Commission and a coalition of state Emergency Management Agencies, politicians such as Mike Pence and various senators and representatives who have spoken against this threat.

The National Association of Broadcasters recently launched a grassroots effort, asking U.S. citizens to petition Congress to act with a national campaign that encourages citizens to text "AM" to Cell Number "52886" and sign a short petition intended to "Tell legislators why you depend on AM Radio" and to "Keep AM radio in cars." For broadcasters it's their livelihood. But for all of us, the difference during a national emergency might be our lives.

One only needs to review the history of storm and wildfire evacuations to see the value and importance of the rapid and reliable dissemination of emergency information. Emergency-Hardened Broadcast Stations and local 10-watt Emergency Radio Stations trump all other methodologies because they will stay on when fragile digital services are swamped or compromised.

It may take an act of Congress to stop the very car manufacturers we have supported with our tax dollars from seeking a break for themselves, as they seek to break radio -- America's emergency safety net.

AAIRO Advisory Board